We had a new Financial Services client contact us about a VoIP phone system in June, they were interested in what we could offer to suit their offices in Australia and New Zealand.
We are also pretty chuffed to note that the whole process was able to be done utilising technology from beginning to end without the need to ever meet face to face, with our new client first reaching out via our VoIP System Quote request form and then the rest of the process being conducted via email.
Our client has offices in both Brisbane and New Zealand with 20 staff, they had 2 existing 1300 numbers for the Brisbane office that directed to mobile and an 0800 number that directed to a mobile for the New Zealand office.
As none of the staff had direct dial numbers or extensions they were using their mobile phones to contact clients, which would become difficult if a staff member was sick or needed to transfer a call.
We rolled out a new 16 concurrent call VoIP system to them in just over 2 weeks including porting their Australian 1300 numbers and New Zealand 0800 number, here is how we did it...


The Requirements

To improve their customer service and give staff more flexibility with their our client wanted a phone system that could:
Utilise their existing 1300 and 0800 numbers
Be accessible to staff 24x7 on multiple devices whilst also giving them the ability to forward to other extensions or go into do not disturb mode when needed
Give each of their team their own direct contact number that clients could reach them on
Give each staff member an extension to allow call transfers and internal calls
Provide the ability to set a call flow to ring certain extensions when either the 1300 or 0800 numbers were called to ensure all calls were answered
Be expandable as they increased staff numbers
Not break the bank!
The solution

After discussing our new clients requirements including likely number of concurrent calls their team would make, call destinations and the locations of the team, we recommended a 16 line 3CX VoIP Business Phone System.
The 3CX system means that each of the team has their own direct phone number that they can call clients from and make use of the unlimited national calls and calls to 16 other countries that are included as part of their monthly plan.
Costs
Our monthly costs for the following services totalled $1,225 + GST per month
3CX Enterprise software licence including all updates.
Unlimited outbound local, national, mobile and 13/1300 calls and a included calls to 16 other countries including NZ, USA and the UK (check out the huge list below!)
AWS phone system hosting for stable performance including daily backups in case of disaster.
800 hours of call recording.
Unlimited extension numbers/users as needed.
Unlimited remote PBX support including user moves, adds and changes
Simple porting of the current 1300 numbers, 0800 number and creation of DID local numbers for the Brisbane and New Zealand office
Users can also access the 3CX phone system on their Android or Apple mobile, Desktop Application or via an internet browser anywhere in the world.
That's right, we include calls to the following 16 International destinations to both Landlines and Mobiles unless noted, excluding any premium numbers
| | | |
| --- | --- | --- |
| New Zealand | Ireland | Denmark |
| Singapore | Malaysia | Brazil |
| USA | India | Italy - Landlines only |
| Canada | Spain - Landlines only | Norway |
| Germany | Switzerland - Landlines only | Sweden - Landlines only |
| UK | Greece - Landlines only | |
Inbound calls to the 1300 numbers are charged as follows 4.5c+GST per minute and Inbound call costs to the 0800 number are 5c + GST per minute for calls from a landline and 17c + GST per minute for calls from a mobile.

Implementation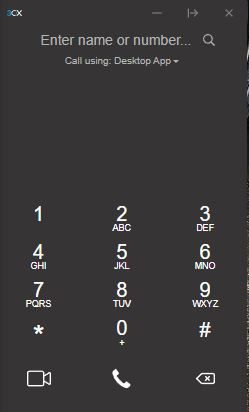 The first step in implementing the system was to begin the porting process for the 1300 and 0800 numbers.
Porting is moving the number from one carrier to another, similar to changing your mobile phone provider.
Depending on the complexity of the port such as whether it is a single local number or a range of 100 numbers or in our case the 1300 and 0800 numbers the time to port can be anywhere from 5-20 business days, this is of course based on the porting authority accepting the port and having all of the information required to request it.
You can check out our VoIP Porting Request form to find out the sort of information that is needed to port your numbers.
Whilst we were waiting for the numbers to port we began the build of the 3CX system including working with our client to determine:
Extension numbers for each staff member
Email addresses for voicemail notifications
The call flow for inbound calls including ring duration, ring groups and fallback queues for when calls were not picked up within the specified times
Which extensions would have call recording turned on for external calls
Which staff would have access to the management console including the call recordings
Standard business hours to allow for alternate call flow programming as needed
With go live day edging closer we sent out welcome emails to all of the new users along with instructions for how to use the 3CX system with everything from transferring calls to changing their status to do no disturb to turn on during meetings for instance.
The welcome email contained information on their extension number and provided links to the web portal where they could download and provision the 3CX desktop app and also scan a QR code to provision their extension on the 3CX mobile app on Android and Apple.


Outcome

Our client now has a fully operational VoIP phone system that their 20 staff love, they have been making calls both internally and to clients with ease both in and out of the office.
We have received really positive feedback about the smooth process getting the phone numbers ported and the 3CX system set up.
Our client decided against using physical handsets with the system for the moment and just utilises the desktop and mobile apps with the existing bluetooth headsets that they had. The great thing about 3CX is that physical handsets can easily be added on later if needed.
Needing to setup a new VoIP phone system or setup a new office?

We have a number of turnkey solutions available to suit any budget, just give us a call on 1300 778 078 and we will get you on your way to new technology solution.
If you are interested in more of 3CX installs why not check out some of our previous blogs:
3CX VoIP for a multinational software developer
170 seat 3CX VoIP Phone System across 3 sites
VoIP install for another Financial Services Client