Now that Queensland borders have opened up, one of our clients who serves as a non-executive director on a number of boards as well as running her own successful executive coaching business found themselves travelling interstate more often and was struggling with juggling their existing laptops for trips and then returning to a desktop computer when at home.
The Requirements

Our client wanted a single device that she could easily use in her home office with a dual screen setup so it acted like a desktop PC when she was home and allowed her to just unplug one cable and go when she needed to head off to a meeting or a trip.
The biggest requirements for the device was that it had USB-C charging to allow her to charge her iPad when needed without lugging another power cord with her, the device needed to be touchscreen and, in her words, it had to be "stylish and black".
She also wanted a colour laser printer to replace her existing colour inkjet which was costing her a small fortune to run or in some cases just didn't run at all.
Here is how we did it:
The solution
Taking our clients requirements we deployed an Asus Zenbook Flip S 13.3" 4K with Targus dual display dock, 2 x 24" monitors, external webcam, external keyboard and mouse and a Kyocera colour laser printer.
With a touchscreen display making it usable in tablet form and weighing in at a tiny 1.2kg thanks to a toughened miltary grade chassis, the ultra portable Zenbook Flip S features an Intel 11th generation i7 processor onboard and is packed with the following features:
13.3" 4K UHD (3480 x 2160) 16:9 glossy display with touchscreen

Intel® Core™ i7-1165G7 processor (1.2GHz - 2.8GHz, up to 4.7GHz)

16GB RAM

1TB NVMe Solid State Drive

Intel® Iris® Xe Graphics

USB-C Charging

Wi-Fi & Bluetooth

USB-A to RJ45 gigabit ethernet adapter
USB-C to audio jack adapter

Built-in camera

Backlit keyboard

Stylus

1 Year Manufacturer Warranty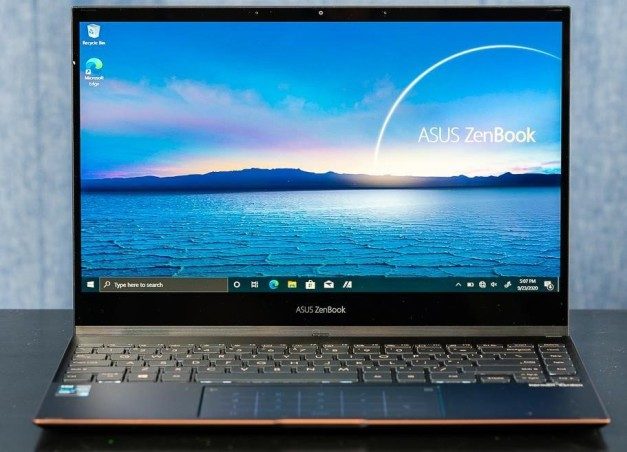 Having the external webcam, keyboard and mouse also meant that the laptop could remain closed when used at home and the webcam would always be set up and ready to go at the right height for our client.
Costs
The total cost for this project was $5,399 + GST for a turnkey solution comprising of:
Asus Zenbook Flip S 13.3" 4K touchscreen laptop
2 x 24" LG Full HD LCD monitors with height and tilt adjustment
Targus docking station
External Logitech wireless keyboard and mouse
Logitech HD webcam
Kyocera Wireless Colour Laser Printer
A full set of replacement toner cartridges for the printer (in addition to the cartridges that ship with the new printer)
All associated cables including a surge protected powerboard
On-site installation.
This price and product solution can of course be customised to your requirements.
Implementation 

The install and setup took 2 hours onsite and included deploying the latest Windows updates, setup of Office 365 suite, OneDrive, PDF software, the webcam and printer.
Here is our clients home office desk before (note the desktop PC underneath the desk)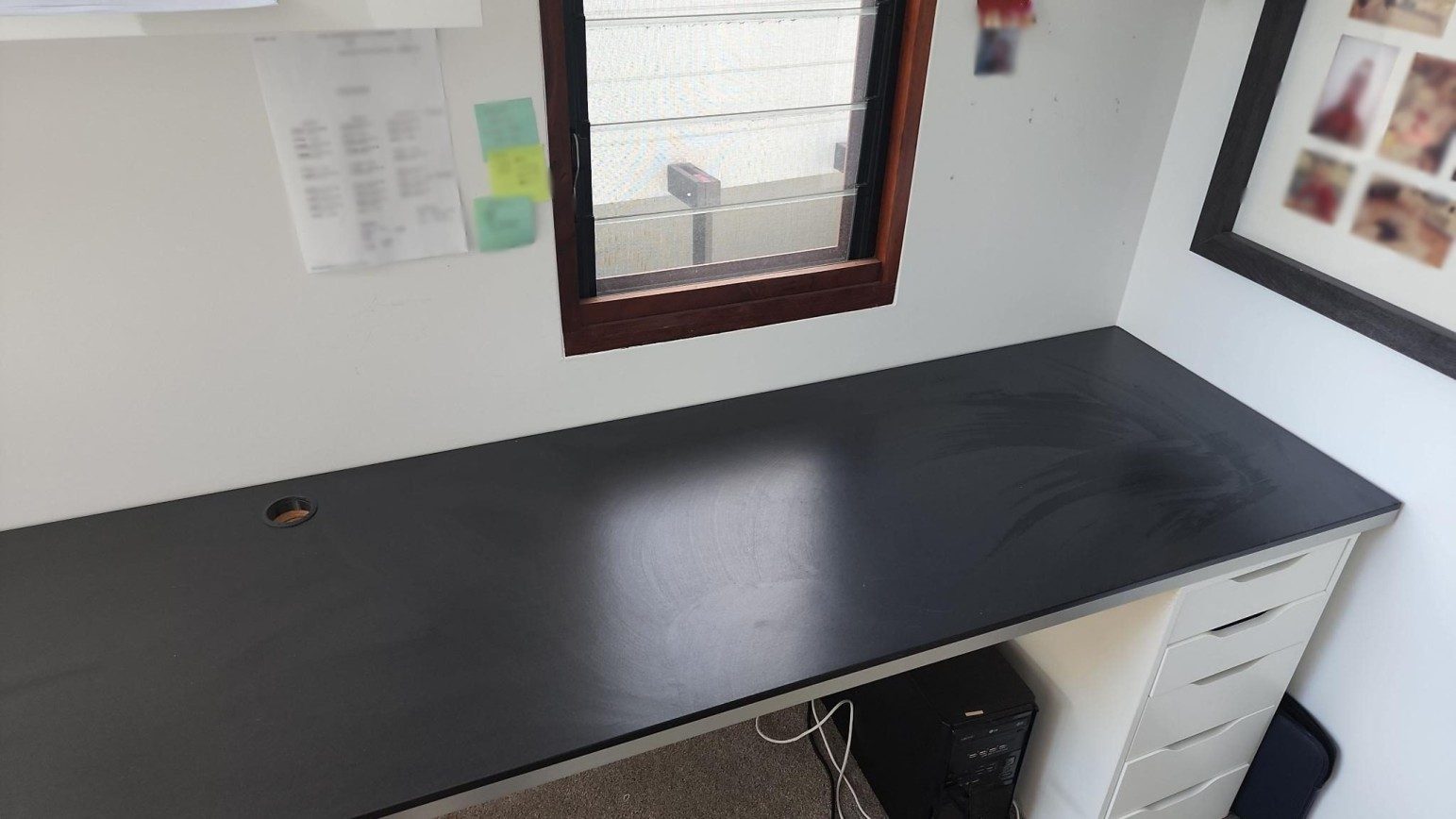 And after with the new laptop installed, when in use the laptop is put to the side and closed, it can be used as a third monitor if needed but our client decided against that.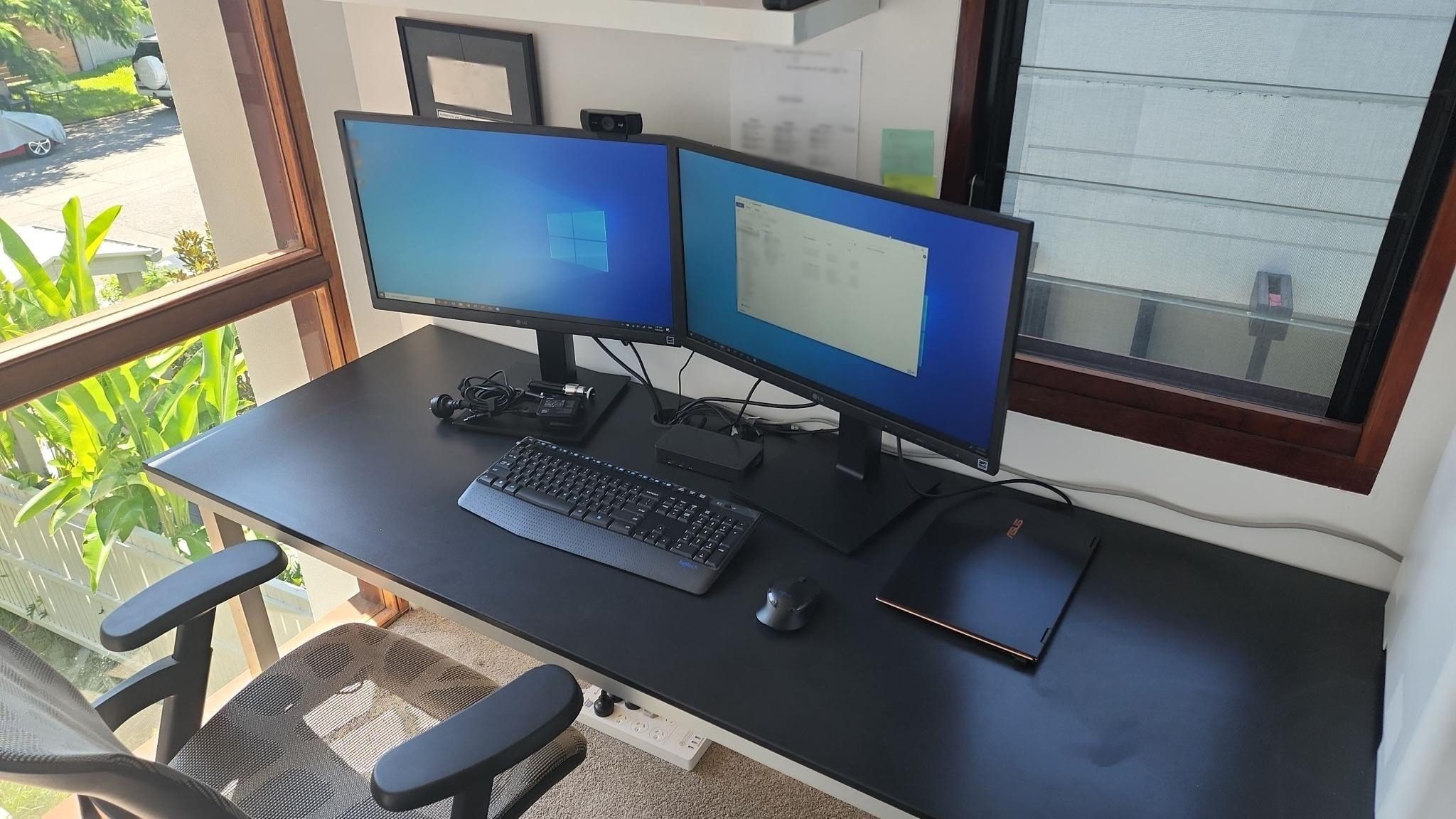 Outcome

Our client is very happy with the install and also loves the colour and stylishness of the laptop.
As a self confessed "technophobe" she found it fantastic to just be able to unplug one cable and head off to a meeting.
The use of the Targus docking station also meant that the power brick that shipped with the Asus laptop became a second spare charger for use when travelling as the Targus dock also charges the laptop when at home.
Looking for a new laptop or to setup your home office right?

We have a number of laptops and accessories available to suit any budget, just give us a call on 1300 778 078 and we will get you on your way to a more mobile workplace.