At the heart of securing your business stands the firewall, an unseen defender protecting your network against unauthorised access while ensuring seamless operations.
WatchGuard firewalls work around the clock protecting your network traffic, ready to respond to any suspicious activity.

Firewalls, in essence, are like your digital gatekeepers, monitoring and controlling incoming and outgoing network traffic based on predetermined security rules. The benefit? It adds a robust layer of protection, preventing malicious traffic from infiltrating your system and securing your business data from cyber threats.
As a small business operating in the demanding sectors of accounting, law, manufacturing, or retail, your peace of mind matters to us. And our service goes beyond providing the hardware. We offer WatchGuard Firewalls as part of a comprehensive, managed plan, where we not only supply the equipment but also:
include a security suite subscription

monitoring for any critical threats or downtime

monthly vulnerability scanning to confirm there are no vulnerabilities to your network

provide support or changes to the settings as you need.
We have an option to suit your office and internet speed from the below plans:
| | |
| --- | --- |
| Service Type | Price |
| Suitable for up to 5 users and 300Mbps | $149 + GST, per month |
| Suitable for up to 20 users and 500Mbps | $199 + GST, per month |
| Suitable for up to 60 users and 1Gbps | $295 + GST, per month |
| Suitable for up to 150 users and 1Gbps | $595 + GST, per month |
| Setup Fee | $500 + GST once off |

And if you'd prefer to handle things in-house? We also sell WatchGuard firewalls with a 1, 3 or 5-year Total Security Suite Subscription. And we can also do an upfront price with complete installation at our standard hourly rates if you'd prefer not have a monthly bill .
"Our experience with the managed WatchGuard Firewalls from FortiTech has been exceptional. It effectively thwarted several hacking attempts and the VPN access is a game-changer for remote work. Highly recommend!"
Angus Gilmore, Operations Manager, Hawkes Transport
TOTAL SECURITY SUITE

Protect your business with advanced security features such as Gateway Antivirus, WebBlocker, Threat Detection and Response, DNS Watch along with all the firewall services you expect in a next generation appliance.

Why Business Are Using our Managed WatchGuard Firewalls


Our team of seasoned professionals will ensure your WatchGuard firewall is set up correctly and efficiently. We manage all aspects of the firewall operation, so you don't have to worry about the technical details.

Our Managed WatchGuard firewalls offer VPN access to your network, providing seamless, secure remote access to your team.

We provide regular updates to your WatchGuard firewall to ensure you're always protected against the latest cyber threats. This proactive approach keeps your business one step ahead and your data secure.




COST EFFECTIVE SECURITY

With our monthly managed plan, you're spared the high upfront costs of purchasing security hardware and software. Plus, we bundle in regular support and maintenance, meaning you get comprehensive security solutions at a predictable, affordable price.
BOOST PRODUCTIVITY



With fewer cybersecurity disruptions, your team can stay focused on their tasks, boosting overall productivity. Plus, your team can securely access your network via a dedicated Virtual Private Network(VPN).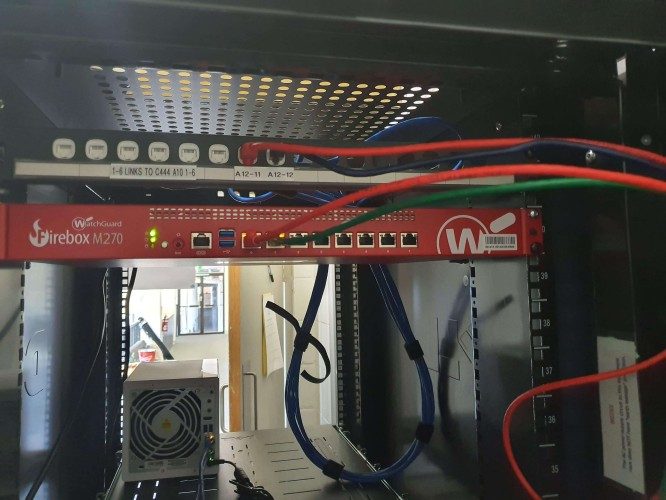 ---
Client Install: WatchGuard M270 Firewall
FortiTech recently completed the installation of a WatchGuard M270 Firewall at one of our education clients.