90% of data breaches are caused by human error, making well-trained employees your first line of defense against cyber threats.
By empowering your staff to understand and respond to cyber threats, you create a robust defense system against potential attacks.

We offer comprehensive cyber security awareness training for businesses. We can offer a convenient once-off in person session for businesses in the greater Brisbane area or we can even run the session via Zoom for geographically spread teams. Or, if you are an existing client on our monthly maintenance and security plans you get the benefit of an annual session designed for your team.
Delivered in plain English and with humour by our Cyber Security Advisor, David, who takes a no bull approach to cover practical steps to secure your business technology following best practice principles, guidance on how you can do to help your clients do the same along with tips on how you can secure your own online presence and reduce the risk of identity theft.
"David's cyber security training session was a game-changer for our business. His expertise and engaging approach made learning enjoyable, and our staff now feel confident in protecting our data. Highly recommended!"
Peter Hilton, Office Manager, Conveyancing Central
EXPERTISE

David, our highly skilled cyber security expert with over 25 years experience, has delivered numerous sessions and is a keynote speaker for reputable organisations such as the IPA, CPA, and QLS.


Why Business Are Engaging Us To Train Their Staff


Our clients have reported significant improvements in their staff's cyber security awareness and a measurable reduction in security incidents.

Training can be delivered in person or via web conference, great for teams located in different areas.


Compliance with data protection regulations is crucial in today's business landscape, and training ensures your staff is aware of their responsibilities.


We cover a wide variety of topics, and make it interesting!

TAILORED APPROACH

We tailor our training sessions to address the specific needs and challenges of your business, ensuring maximum relevance and impact.
STAY AHEAD OF THE GAME



Cybercriminals continually adapt their tactics, making ongoing staff training essential to keep up with emerging threats and protect your business.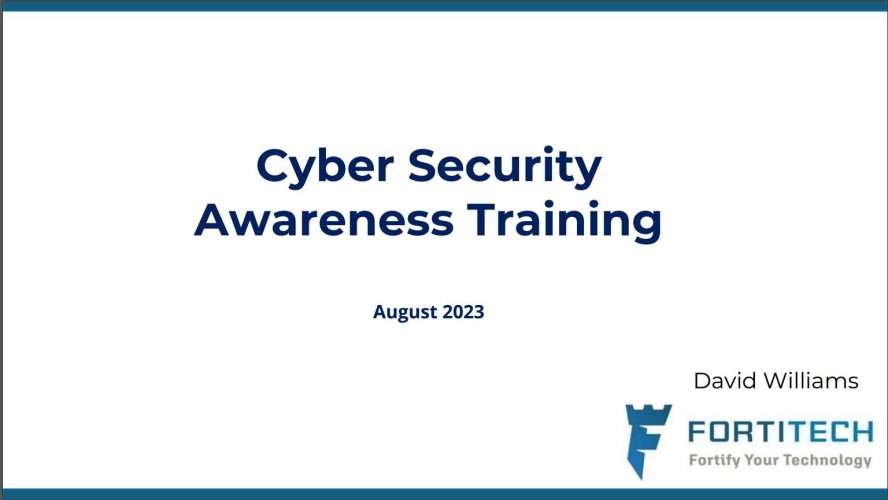 ---
Cyber Security Awareness Training
For businesses, the risk of a cyber attack is ever present, given the vast amount of sensitive data they handle daily and that is exactly why one of our new clients went searching on Google for "Cyber Training Ipswich QLD" and ended up giving us a call.