Over the years we have seen an increase of mobile devices such as laptops being used as the primary device for many businesses  thanks to their convenience and portability, manufacturers have also seized on the popularity by putting more R&D into increasing the performance of the devices to make them more competitive with traditional desktop PC's.
The benefits do come with a cost though, whilst laptops are great on the go they can present the user with frustration and WHS issues due to the limitations of the screen size and the compact design of the inbuilt mouse and keyboard, an all too familiar problem that caused a client to come to us for help with recently.
As a sales professional our client is often out and about meeting prospects before heading back to the office to work on proposals, they were doing all of this on a Chromebook laptop and it was quite literally a pain in the neck. They put the call out to FortiTech for help.
Our client wanted to continue to have the benefit of being able to just pick up their Chromebook and head off to a meeting, but then come back to the office  and seamlessly work on multiple proposals, whilst still monitoring emails and other applications. We proposed the following solution:
A dual monitor docking station
A pair of 24" monitors
Dual monitor desk top stand
Wireless keyboard and mouse set
All cabling required
And while its sounds like a lot of extra equipment, far from cluttering the desk, we  were able to free up precious desk real estate by using monitor arms mounted to the desk,  giving a sleek and stylish solution with big benefits in screen real estate for multitasking. In fact, you can read about the benefits of multiple monitors in one of our other blogs, but in short a Dell study showed a 44-percent boost in productivity for text tasks and a 29-percent rise for spreadsheet tasks when moving from a single screen to a dual-monitor setup.
Our client went from this: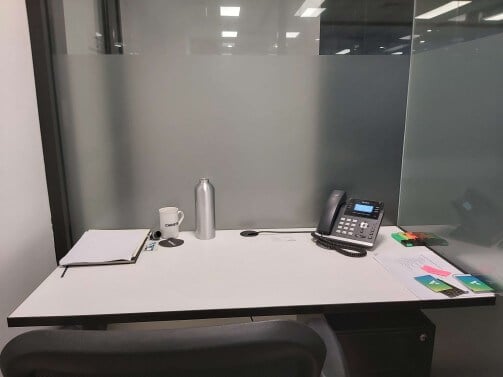 to this:

This solution also allows our client to use a single cable to connect their Chromebook to the docking station, it is a small box which facilitates the connection of the multiple monitors, power, network connection, audio and more to the laptop via a single cable, meaning you can simply unplug the cable when you want to take the laptop home for example. The setup allows you to return the next day and plug the same cable in to begin working as normal again.
And of course, the wireless mouse and keyboard leaves you free of troublesome cables with the added benefit of a full-size keyboard and mouse and the freedom from the nuances of those pesky laptop touchpads.
And the cost, for those of you wondering, it is roughly $1,000 + GST depending on the hardware you choose, so you are looking at roughly a 2 month ROI based on all the productivity gains.
Our client was extremely happy with the install and has been using it daily.
If you are interested in a similar setup for your home or office, just give us a call on 1300 778 078, your neck will thank you for it.