How to improve workplace productivity in 1 simple step

Businesses spend countless hours trying to figure out how to improve the productivity of their workers even by a fraction of a percent. That's because every single process that can be tweaked, every second that can be shaved and every step that can be fine tuned brings tangible benefits in terms of overall efficiency and greater productivity, which equals higher profitability.
There's one thing that literally stares us in the face and doesn't always receive the attention it should: your computer monitor. Employees usually look at it for at least seven and a half hours a day if desk-bound.
Dell have released a whitepaper outlining the benefits of moving from a single screen to being able to view multiple windows or tabs.

A Utah study mentioned in the whitepaper found that workers showed a 44-percent boost in productivity for text tasks and a 29-percent rise for spreadsheet tasks when moving from a single screen to a dual-monitor setup.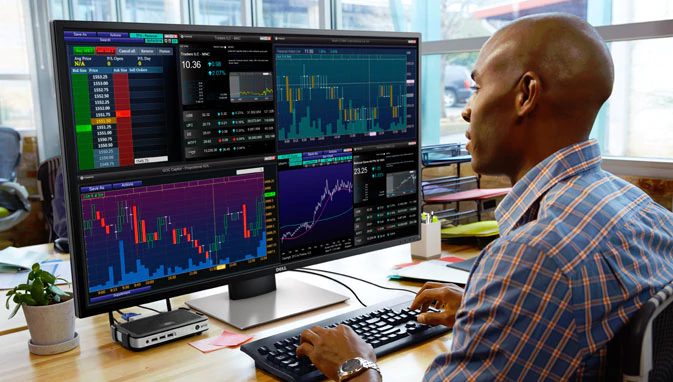 In the Georgia study included in the whitepaper, participants were able to complete their given set of tasks nearly two-and-a half minutes faster using a dual-monitor setup. Although two minutes doesn't sound like a lot, it adds up quickly when multiplied by task and employee. Even a gain of five minutes per hour leads to 40 saved minutes per business day for each employee.

Dual monitors allow an employee to work on 2 or 3 different programs and once without the need to minimise screens to change between programs, but they quite often take up alot of desk real estate. Rolling out multiple displays across hundreds of desktops is not an easy task as it can be quite disruptive if the installation requires dedicated monitor stand.
Which is where new 4K monitors allow you to enjoy the benefit of the equivalent of four full HD monitors using a single display . Their prices have fallen significantly over the past two years as the technology has matured and more companies roll out more affordable models.
Most mainstream operating systems are already optimized for high resolutions. Windows 10, for example, allows you to easily tile four full HD windows in a snap.
A much higher pixel count translates into more being displayed onto the screen, which can give you more than 5,200 spreadsheet cells in Microsoft Excel and the ability to display four A4 sheets side by side in Microsoft Word. Imagine the time saved from not having to open and close new windows all the time.
FinTechnologies sells a Dell 43" P4317Q for $1495 + GST and it can replace up to four full HD monitors and have the footprint similar to a 27-inch full HD model. In other words, they're easier to install, don't take a lot of desk space and require only one power connector and one data port. If you are interested in buying one for your business just give us a call on 1300 778 078