This week we added 5 Dell Wyse Thin Client computers to the current remote server infrastructure for one of our clients in the education sector.
These tiny (weighing in at 240g and measuring 10cm x 10cm) Thin Clients were chosen as the best solution to suit our client's wish to secure their infrastructure and provide a pool of computers for their users cost effectively.
Thin Clients require little in the way of onboard resources and use almost no electricity. They are essentially a tool used as a gateway to a remote server, which carries all the processing and storage needed to operate the business network. The remote server also houses the shared applications such as accounting software and stores all the data, allowing the sharing of applications and enforcing a more secure environment for your data as users cannot save to their local hard drive.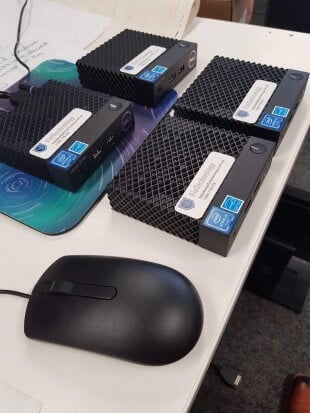 Another benefit of these pocket dynamo's is that they are also able to run dual monitors through its dual display port connectors, which is pretty impressive and of course perfect for improving productivity – check out our previous blog on the benefits of multiple monitors here
We have had rave reviews from the client so far and have plans to continue to grow their Thin Client footprint.
If you are interested in reading more about the business benefits of Thin Clients be sure to read our blog about it here