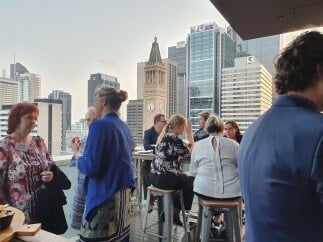 The End of Year function season is definitely upon us. We attended our first end of year function in 2 years! Yes, it has been that long and as luck would have it the Queensland mask mandate also lifted on the same day, making networking so much easier.
The College of Law Queensland played host to about 80 people in an intimate soiree on the rooftop of their building in Ann Street, Brisbane, with views across to City Hall.
FortiTech has been involved with the college for over 3 years, with David taking part in the World Legal Summit at UQ in August 2019 and in 2020 we were involved in a panel discussion on Cyber Law and hosted a series of webinars on cyber security and technology within law firms as part of a Centre for Legal Innovation education offering.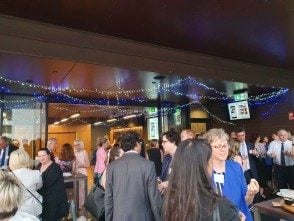 The night also served a dual purpose of collecting donations for the Wesley mission Red Bag Appeal. Guests were encouraged to bring along non-perishable items to be gifted to families in need for Christmas Day.
We look forward to continuing to work with the College in 2022 and hope that its not such a long time between drinks for the next function.