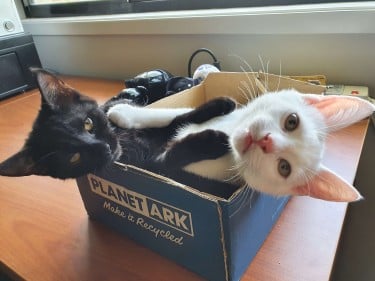 Meet Boo and Skie, FortiTech's two new interns. The pair joined the team over the recent holidays and like many Australians, they are enjoying the benefits of a work from home arrangement.
After undertaking some initial training at Little Paws Kitten Rescue, Boo and Skie were chosen as the purr-fect candidates for our team.
Whilst they haven't quite graduated to answering support calls the dynamic duo have been busy ensuring that all cardboard boxes are re-used, cables are strength tested and yes, cat naps are written into their contracts.
We are pleased to report they are coming along in literal leaps and bounds and best of all will work for treats.