8 teams, 52 hours, 1 winner.
It wasn't quite The Hunger Games, but competition was just as fierce.
Welcome to the 2019 Disrupting Law Hackathon, held from Friday 9 to Sunday 11 August at QUT's Gardens Point campus this year's event focussed on Cybersecurity. 60 Law and IT students from QUT participated in the 4th annual event and were mentored by top Brisbane law firms across the weekend.
FortiTech's Managing Director, David, was kept busy rallying the troops as the keynote speaker opening the event for both Brisbane and nationally as well as providing mentoring to the students and being part of the judging panel.
David wowed (or perhaps more accurately, scared) the crowd with his address, reiterating just how much the tide needs to turn on the war on cybercrime, the 9th Annual Cost of Cyber Crime study from Accenture estimates the cost the global economy $US5.2 trillion over the next 5 years.
With the National Cyber Security Alliance now also reported that 60% of SME's fail within 6 months of experiencing a cyberattack, the students were urged to think of ideas that would help fight the current plague on our society.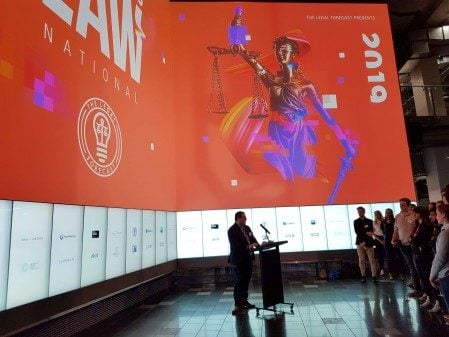 The event culminated in a Shark Tank style pitch to the judges on the Sunday evening, Team Herbert Smith Freehills came out on top with an awesome pitch for a solution to help stop clients accidentally waiving legal privilege and will advance through to the National finals.

FortiTech would like to thank The Legal Forecast for organising the event, and we look forward to taking part next year.