The FortiTech team joined a host of other IT Professionals and business owners at the IT Connect conference hosted by leading software company, Kaseya.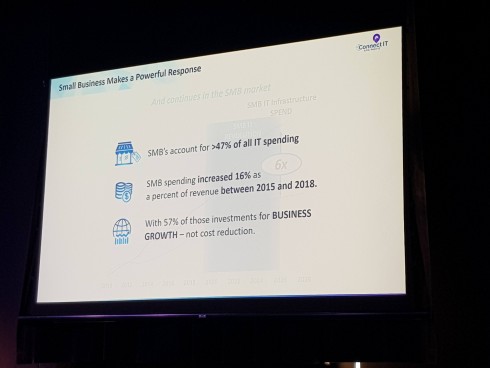 Bringing together vendors including WatchGuard, Bitdefender and Webroot, the conference showcased the latest trends in tools for Managed Service Providers.

With interactive sessions and training certification courses running for the duration of the conference, the team picked up some great learnings that we can use to help solve the technology challenges of our clients, we are excited to start incorporating these into our service offerings, including even more advanced Dark Web scanning for lost credentials.

The team also picked up some interesting and somewhat startling facts from the presentations, showing a growing trend in increased technology spend for SMB's and the increased risk of cyber attacks, some of the highlights are below, but if you would like to chat more about how FortiTech can help build your bsuiness then give us a call on 1300 778 078:


SMB IT Infrastructure spend as increased at a rate 6x that of GDP
SMB's account for over 47% of all IT spending, with 57% of those investments for business growth, not cost reduction
Security risks are the top concern for SMBs at 34
76% of people will use the same or derivative of the same password for systems they log into
In Quarter 1 2019 the average downtime due to a ransomware attack was 7.3 days

*Coveware Q1 Ransomware Marketplace Report