We have all had those unusual emails, the ones that ask us to confirm our Amazon order or reset our Office365 password.  But how do we know which to trust and which are phishing attacks?


The answer? Education and lots of it.
At FortiTech, we have seen in increase in the up take of our Security Awareness Training as more and more cybersecurity reports point to human error as being a dangerous entry point for cyber attacks, meaning you can invest in all the latest firewalls and software to protect your business, but, if your staff then plug in a USB key they randomly found, it could spell trouble.
We recently completed a Security Awareness Training engagement with one of our legal clients, as part of this we provided in-house lunch and learn sessions, giving staff an overview of examples of cybersecurity threats and how to counteract them, plus who could say no to a free lunch?
To keep everyone on their toes, we also ran simulated phishing attacks, at random times, both before and after the training, which then enables us to measure the impact of our teachings on the staff and areas that need further concentration for particular industries.
With current statistics from the Office of the Australian Information Commissioner (OAIC) stating that 35% of all cybersecurity breaches are being caused by human error it is really important that your staff are educated on the current threats and how to deal with them. We offer our Security Awareness Training as a managed service, which means that your staff will have access to online training modules, lunch & learns and of course we will conduct regular simulated attacks to ensure your environment is safe.
If you are interested in finding out more about Security Awareness Training as a managed service then send us an email today.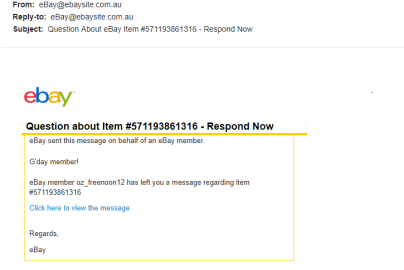 An example of a reasonably convincing phishing attack, but note the From and Reply To email addresses
.