Fortitech continues to spread the word about the importance of Cyber Security and with that,  David was joined by Matthew See, WatchGuard's Manager of Sales Engineering – APAC, hosting a webinar in conjunction with the College of Law's Centre for Legal Innovation, focusing on protecting data for remote users.
There has been an unprecedented
increase in employee's working from home due to the current pandemic, which has led to a window of opportunity for hackers to exploit less secure network environments that have been modified to allow remote working.
With Gartner predicting that post-pandemic 41% of employee's will be working remotely in some capacity it is critical that organisations tighten up their data defences.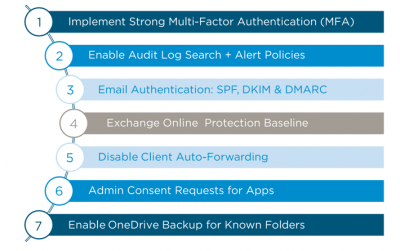 Microsoft 365
(formally Office 365)
is a prime target for hackers with more than 155 million active users every month, many organisations biggest cloud assets often being housed in Microsoft 365 including email and files.
David led the group through the 7 key areas of security implementation recommendations for Microsoft 365, step by step instructions for which can be found in our
free 32-page guide on how to secure Microsoft 365.
Another common concern of late is the security of web conferencing, whilst companies like Zoom have made steps to improve their overall security to prevent meetings being "hijacked" they still lag behind in areas such as multifactor authentication. David outlined the key security criteria for good web conferencing tools to use:
Does it use E2E encryption
Does it use well-known testable encryption standards
Does it support MFA
Can users see and control who connects to sessions
Does the vendor share info with third parties
The head to head of popular vendors based on the above criteria shows Cisco Webex and 3CX to be the most secure overall at present.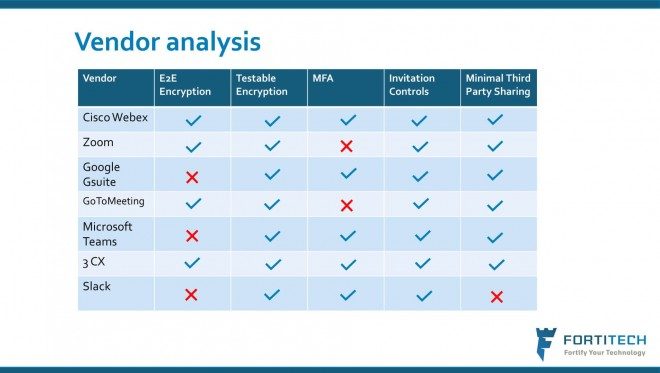 Matthew covered off ways to securely log into a corporate environment securely using WatchGuard AuthPoint Window's logon app with Multifactor Authentication (MFA), this enables users to access a central portal in a secure environment which requires verification of your identity to then be able to access corporate resources and cloud based applications in one spot .
Both Matthew and David pushed the importance of securing at the device level as much as possible to prevent back door access into a corporate network, this can be done in a multitude of ways including DNSWatchGo for DNS and Web Filtering to prevent access to illegitimate websites, utilising Threat Detection and Response software to protect against ransomware and malware threats along with enabling drive encryption on devices such as laptops this is crucial in the event that the device is compromised it can be restored through an encryption key.
Special Offer
To aid with Remote Worker Security, particularly in the current climate, WatchGuard are offering free use (for up to 250 users) of their AuthPoint Multifactor Authentication App and DNSWatchGo Web and DNS Filtering Tool until 31 July 2020. If you would like to take up this offer, simply give us a call on 1300 778 078.
David's cyber security series for 2020 continues in June with a webinar on Business Continuity and Backups, here is a little teaser of the session:
9 out 10 legal practices are not confident in their backups. Do you have a business continuity plan that includes all your data including that in the cloud?
Join us for the June Cybersecurity Monthly Tip Meetup to learn:
What is business continuity
How you can ensure that all of your data, including on premises and in the cloud, are backed-up
Applying the 3-2-1 rule for backups
If you aren't already a member of the Legalpreneurs Lab, why not check out their membership page here, you don't have to be in the legal industry to join and as a bonus, they are currently offering complimentary membership until 30 June 2021.