On the 29th of July, David was asked to present at a BNI Focus group meeting in West End (this was pre-lockdown of course!).
BNI is a business networking group with over 270,000 members spread over 10,000 chapters worldwide, it provides a great platform for like-minded business leaders to meet and collaborate to grow their businesses.
David's presentation to the group covered his professional history, the history of FortiTech and the services we offer to our clients. Like always there was also a big segment of cyber security for businesses and a lot of great questions from the group.

As with any great networking event, there was a lucky door prize, being a technology company, we chose to offer a handy Bluetooth speaker as our prize, Rohan Banning (pictured below with the speaker) was the lucky winner on the day.

Rohan is from Amazing Apartments, who specialise in selling Apartments. You can find out more about them below, and it you would like to get in contact with Rohan you can reach him on mobile 0448 221 066 or by email
If you are a Brisbane business leader and are interested in attending a BNI meeting as a guest, just drop David an email and he will be happy to line up a Thursday morning that suits you both to attend.


---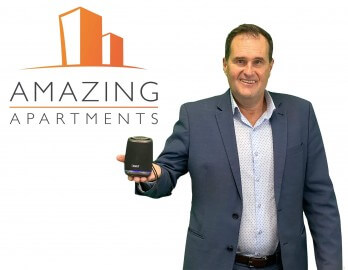 AMAZING APARTMENTS – YOUR APARTMENT SALES EXPERTS
Our Specialist Team will find the right buyer for your apartment, with the least amount of fuss.

Most real estate agencies deal in a range of different housing types, but at Amazing Apartments we deal exclusively in – you guessed it, apartments!
This means our understanding of apartment living and the workings of Body Corporates and By-Laws is second to none.
Boasting a comprehensive and active database of apartment buyers, locally, interstate and across the globe, we are constantly on the lookout for apartment owners who wish to sell.
Our Specialist Marketing Team have many years of experience and know the most effective ways to target the best buyers for your property.
We have the skills and the technology to develop a marketing strategy that will create a very cost effective professional showcase of your apartment.
Your Amazing Apartments team are experts in Apartment Sales – partner with us and let us take care of the rest.