Are you looking to protect your premises and also want to check-in live wherever you are? You are not alone,
we just completed another CCTV install for a client that is able to do just that.
CCTV offers a great way to deter burglars, prevent vandalism, monitor a workspace such as a manufacturing floor or retail showroom.
The Requirements

In this case our client wanted peace of mind that their premises was monitored and that they could verify that any time they wanted.
Our client wanted to ensure the building was monitored from all angles 24/7. It was critical for them that the CCTV system be reliable, capable of providing high quality recording, incorporate a doorbell camera that was accessible via a mobile app and give our client the ability to interact with any visitors who triggered the doorbell camera.
Here is how we did it:


The solution

Taking our clients requirements we deployed a HIKVision based solution.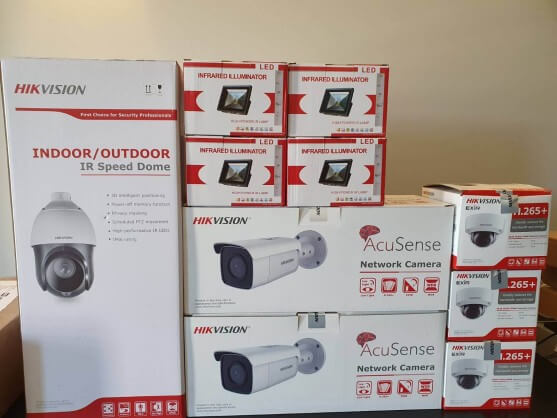 A sample of the cameras and IR Illuminators used in the install.
We supplied the following hardware:
1 x 4K Pan Tilt Zoom (PTZ) camera with 25x zoom
2 x 4K variable focus outdoor bullet cameras
3 x 4K turret cameras
HIKVision HD doorbell camera
Indoor 7" doorbell controller and monitor
4 x Infrared (IR) flood lights to increase night time performance
Uninterruptible Power Supply (UPS)
Central patch panel
Power Over Ethernet (PoE) switch
All cabling, cable management, mounts, conduit and training
A custom Network Video Recorder (NVR) was built to control the system and store the recordings, it featured the following:
Intel i5 10600 CPU
16GB RAM
500GB SSD for Windows 10 Pro
14TB Western Digital Purple Hard Drive to allow 2 months worth of video storage
HIKVision is known for their high quality hardware and the decision to go with 4K meant that the camera recording quality was going to be top of the line.
Costs
The total cost for this project was $11,200 + GST.


Implementation 

The install for this project took 2 days total, we teamed up with Peter from Secure Cabling to run all the wiring and cabling, while FortiTech mounted the cameras and configured the system.
The camera system links back to a dedicated computer that uses Blue Iris software to capture and store the data and also gives access to all cameras through its inbuilt web server.
As we mentioned above, the doorbell camera can be controlled remotely via the HIKVision app.
To keep all of the cable runs as unobtrusive as possible, conduit runs for outdoor cameras were kept to under the eaves of the building, whist the rest were mounted to brick. All of the equipment was wired in CAT6 networking cable back to a central patch panel and Power Over Ethernet (PoE) switch that was supplied.
Outcome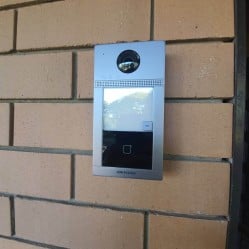 All cameras including the doorbell are recording 24x7 and stored on a huge 14TB of storage with UPS battery backup.
The added bonus of having the HIKVision doorbell camera linked with the app has no ongoing costs for accessing historical data, unlike the popular Ring devices.
Our client is very happy with the install and has been enjoying the ability to randomly check for activity on the cameras for their ongoing peace of mind.
Looking for a CCTV system?

If you are looking to install a CCTV system at your business, just give us a call on 1300 778 078 and we will get you on your way to a more secure workplace.