The secret

to defending your data

In an environment where every business is at risk from cyber attacks, we help businesses protect themselves, then work with them to harness their technology investment to support their business goals.
That's where we come in, our ProTech Managed Technology plans offer Technology Support, staff training, policies and procedures, continuous security auditing, technology "hardening", along with software and hardware, work together to minimise and mitigate your risk. These are the foundations of how we help businesses to better fortify themselves.
Our ProTech Plans
Click on the below image to find out more about our ProTech plans and their inclusions: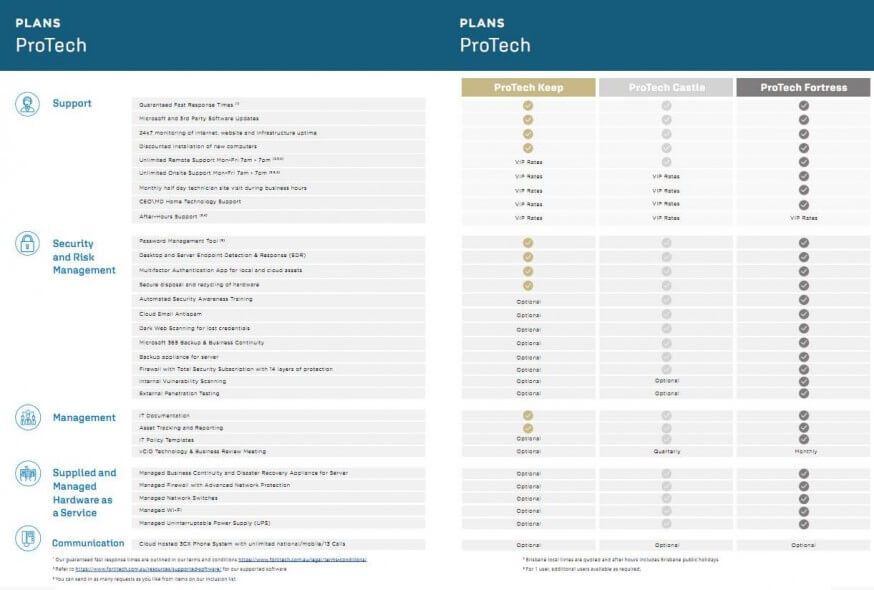 From ransomware to denial-of-service to "drive-by" attacks, businesses today operate in an environment where a single mouse click or web page can cripple their businesses within minutes.
The whirlwind development of technology has given businesses unprecedented opportunities over the past two decades. But the dark side to our ever-growing reliance on technology means that cybercrime – now bigger than any other form of organised crime – is no longer a case of if, but when.
60% of small businesses that suffer a cyber-attack are out of business within six months.

How Cyber Criminals Hack Your Business

Most businesses aren't able to properly protect themselves from cyber attacks, simply because
intruders have so many entry points to break into your business and wreak havoc.




YOUR STAFF

OAIC statistics show that 75% of data breaches are caused by staff. They're the weakest link and often the entry point for hackers. Staff inadvertently visit infected websites, click on phishing emails or introduce malware, bypassing all your carefully planned protection. Hackers happily exploit human nature to gain access to your system.

YOUR NETWORK

Your home and office network can be hacked through your internet connection, USB drives or malware from the internet. Once they've got access to your network, hackers have free reign to do what they want, including stealing your data.




YOUR EMAIL

The most common way a hacker will steal your login details is with a technique called phishing – emails that seem real but are faked to get readers to click on a link. Direct attacks on Office 365 accounts are also becoming more"popular".

YOUR WEBSITE

& SOCIAL MEDIA

Your website and social media may not leave local systems vulnerable, but an attack on a site that brings in revenue (like e-commerce sites) or the reputation of your business can bring a heavy financial toll.

YOUR CLOUD DATA

As the cloud becomes more ubiquitous, hacks on cloud providers become more lucrative to hackers. Your data may not be targeted specifically, but an attack on a cloud provider can "scoop" up logons used to target you directly.
Cyber Security is no longer just for large enterprises, but a necessity for every business, no matter how small. The speed of technological development has helped many businesses innovate and become more efficient, but hackers have been able to leverage the same advances for their own purposes.
Without the right security, your technology becomes a risk factor instead of a growth driver. That's why security is our #1
focus. Once your business is fortified against cyber threats, we work with you to develop the strategy, processes and infrastructure to grow.
Take the first step to make your business more secure and contact us – simply call 1300 778 078 or email [email protected] today.